| | | |
| --- | --- | --- |
| | Fáilte Romhat | |
Welcome, this site contains information about my research into my family genealogy. Names currently being researched are Hayes, O'Connor, Brown, Fox, Santry, Callaghan and Murphy. My paternal grandfather came from Derryduff near Rosscarbery, my paternal grandmother was born in Dingle. My maternal grandparents came from Mullagh, Moynalty, Tierworker areas of Meath/Cavan.
I would like to thank all those people who have provided information for me to put on these pages, especially Enda Lee, Henry McFadden, Jean Prendergast, Dave Sherry, Ginni Swanton and Jeffrey Wainwright. Contributions of historical or genealogical interest for West Cork welcomed. The information on these pages is provided as is and at no charge.


Online Records
Hayes Name Passenger and Immigration Extracts
Hayes Name Militia Attestations for Cork Royal Garrison Artillery

Cork Civil Parish - Catholic Parish cross reference list
Cork Civil Parish, Barony & Poor Law Union cross reference list
Selected Irish Marriage Records 1600-1900
Quaker Records Dublin - Abstract of Wills
Hearth Money Roll - Armagh 1663
Hearth Money Roll - Louth 1664
Hearth Money Roll - Sligo 1665
Hearth Money Roll - Monaghan, 1663-1665
Holden's Triennial Directory Cork 1809

Pigot & Co's Provincial Directory of Ireland 1824
Rosscarbery Tithe Applotment Extracts 1830

Tithe Defaulters Cork, Ireland 1831
Lewis Topographical Dictionary of Ireland 1837 for County Cork

Pettigrew and Oulton's Dublin Almanac for 1842

Slater's Commercial Directory of Ireland 1846

Griffiths Valuation of Ireland Index Extracts 1848-1864

Census Extracts for Cork 1851

Land Owners in Ireland 1876

Census of Ireland 1901

Guy's Postal Directory for County Cork 1914

Guy's Postal Directory for Cork City 1914
Kellys Directory of Leather Trades in Ireland 1915
Cemetery Transcriptions and Images
Rosscarbery Cemetery Transcriptions and Images
Killkernmore Church ruins and Cemetery
Rathbarry Church ruins and Cemetery
Old Kilgarriff Church ruins and Cemetery
Kilgarriff Church and Cemetery
Kilnagross Church and Cemetery
Inchydoney Church ruins and Cemetery


Hayes Information & Genealogy Sites
My Family Genealogy

Hayes Genealogy
The Hayes Family Genealogy Webpage

Maps

Map of Clonakilty, Ardfield, Timoleague Areas (1629kb)
Map of Rosscarbery, Glandore, Leap, Castletownshend Areas (1286kb)
Map of Skibbereen,Leap, Union Hall, Castletownshend Areas (1315kb)
Taylor and Skinner - Road Map of Ireland 1778

Pictures
Miscellaneous Images of Ireland

Old Books and Transcripts
View's a Foot - J Bayard Taylor
A Tour in Ireland 1776-1779 - Arthur Young
All Aboard for Europe - Rev. D.C. Eddy 1897
The Cattle Raid of Cualnge (Cattle Raid of Cooley)
James Bryce - Handbook of Home Rule
Mary Cusack - History of Ireland
James Godkin - The Land War in Ireland
Charles Johnston - Ireland Historic and Picturesque
T.M. Kettle - The Open Secret of Ireland
Emily Lawless - The Story of Ireland
Michael McDonnell - Ireland and the Home Rule Movement
T.W. Rolleston - The High Deeds of Finn and Other Bardic Romances of Ancient Ireland
Rev. John O'Rourke - The History of the Great Irish Famine of 1847
D. D. Sheehan - Ireland Since Parnell
James Stephens - Irish Fairy Tales
James Stephens - Insurrection in Ireland

Historical information on Clonakilty and surrounding areas
Account of the 1798 Rising in Clonakilty
Articles on Clonakilty and the Orange Order
Pigot & Co's Directory of Clonakilty 1824
Slater's Directory of Clonakilty 1846
The Mission of Clonakilty, 1868

Guy's Directory of Clonakilty 1875
Slater's Royal Directory of Clonakilty 1881
Account of the Eviction of Tim Hurley 1886
The Eviction of Tim Hurley from United Ireland
Clonakilty Old/New Street Names
History of Methodists in Clonakilty
Protestant Churches in Clonakilty
An Echo of Emmet Rising in West Cork
Clonakilty Branch of the C.Y.M.S.
Fishing Tragedy at Myross 1903

Closure of Deasy's Clonakilty
History of O'Donovans Hotel Clonakilty
The Southern Star Centenary Supplement 1889 - 1989
The original flag of Ireland was blue and this is still used today as the Presidential Seal.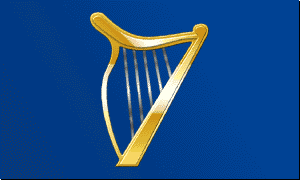 Please contact John Hayes if you wish to use some content from this site.